Meet Rómulo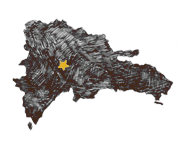 Quick Facts

Full Name: Rómulo Carmen del Pichardo
Age: 44
Coffee Farmer Since: 1998
Nickname: El Bate
Favorite Farm location: His chicken house, which has a great view
Romulo has been in organic coffee farming since 1998. At that point, he left working with cattle on the hillsides, realizing that the grazing was causing deforestation which was in turn removing all of the water from the mountainsides in Los Marranitos, where his farm is located.
Working with other local farmers, Romulo launched into a reforestation project that has had amazing results. After selling his cattle, Romulo invested his earnings in coffee, replanting an overgrazed mountainside. Since they started, the tree cover and rehabilitated ecosystem has allowed water to be retained, meaning that even during low rainfalls, there is always water available. "Everyone feels pride when they come here," Romulo explains. This kind of sentiment and environmental rehabilitation is why Liga Masiva supports small-scale organic farmers.
They are also great at what they do. With his wife and six children, as well as other family members, Romulo picks all of his coffee. When we went to help with the harvest, we picked about 1/3 the amount that Romulo and his family did. Their quick fingers and experience and unrivaled skills that make it possible to get great coffee to you!
To produce a really great coffee, Romulo told us, you have to invest a lot. He invests time, money, sweat, thought and love into the coffee trees that he cares for, and his beautiful farm is an example of how that kind of attention leads to a different kind of earth. It rocks to support that kind of change!
Want to reach out to Rómulo with a question or a friendly hello?
Contact him!
We'll pass along the message the next time we're together.