Meet Martin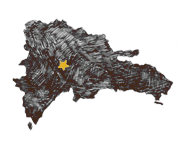 Quick Facts

Full Name: Martin Candelario
Age: 52
Coffee Farmer Since: birth
Favorite Food: Plantains
Martin and his wife Marilena have five children between the ages of 18 and 29.  Until about 10 years ago, all of them lived in Martin's childhood home, which is about a half hour walk from most of his coffee fields.  Now however, his children live in town in Jarabacoa, where two of them are attending university.  This is thanks in part to relationships like Martin's with Liga Masiva, which allows him to earn more for the excellent coffee that he produces.
Martin has also used his relationship with Liga Masiva to start working on the purchase of a new coffee field from one of his cousins.  Through our Liga Masiva Socios prepayment plan, he's planning to expand his production by purchasing another acre and tending those trees better than they have been for the last 10 years.  That means more care for that land and those trees, more money for Martin, and best of all, more great coffee for us.
Martin is a man of many talents.  During our most recent visit to his farm, Martin wowed us with a number of things.  We saw his beautiful coffee fields (see some pictures here).  Marilena made us an amazing meal of boiled guineo – a type of unripe banana – chicken, rice, and of course, delicious sweet coffee!  We got to see the new river generator powering the household's one lightbulb (we don't know how to set up anything like that, do you?).
But then, Martin pulled out a chair and a deck of cards.  He proceeded to wow us with a wide array of magic tricks!  Can you figure out how to pull out all four aces from a shuffled deck of cards?  Or how to identify the card that we picked out completely randomly from behind your back in the reshuffled deck?  We can't either.  But we liked finding out that Martin's magic extends way beyond his coffee growing, even if that's the part we all enjoy every morning.
Want to reach out to Martin with a question or a friendly hello?
Contact him!
We'll pass along the message the next time we're together.