Meet Juan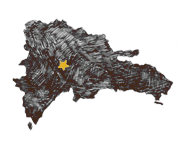 Quick Facts

Full Name: Juan Abreu Duran
Age: 42
Coffee Farmer Since: Birth
Nickname: Rafael
Rafael, whose full name is Juan Abreu Duran, was born and raised on the Duran side of La Lomita, the community where five of Liga Masiva's six farmers currently reside. Eight years ago, he inherited the coffee fields that he cares for from his parents, who still help out with the harvest and the processing.  With the help of his relationship with Liga Masiva, Rafael is improving the coffee fields even more by replanting old coffee trees, fertilizing organically, and removing some really hard to get at weeds.
Rafael's parent's house is about a 15 minute walk (over very hilly terrain!) from the coffee fields that they have worked throughout their adult lives. Often times, they head up with Rafael and his siblings to tend the coffee early in the morning or late in the afternoon in order to avoid the heat midday.  However, even then they can't avoid how steep the farm is – it's a lot more like mountain climbing than you might think!  Either way, even Rafael's parents picked more coffee more quickly than any of us!
The extended family lives around a central square, and everyone's houses are painted the most cheerful pinks, blues, and teals that you can imagine.  However, last year, Rafael, his wife Miledi, and their four children moved into town part time last year so that the children could attend more school than the primary school in La Lomita. It has been an adjustment to be closer to neighbors, and the whole family often heads up to the family farm each weekend. This generation of farmers are the first ones to live part time in Pinar Quemado, which is about a two hour walk from the locations of the farms.  Liga Masiva's partnership with Rafael in part makes it possible to maintain the little house in town where his children stay during the school week.
Want to reach out to Juan with a question or a friendly hello?
Contact him!
We'll pass along the message the next time we're together.