Meet Jacinto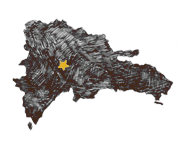 Quick Facts

Full Name: Jacinto Candelario
Age: 63
Coffee Farmer Since: Birth
Jacinto's kitchen always smells marvelous.  There's a mixture of wood smoke from the open air stovetop, coupled with coffee, and well, let's be honest, earth.  Jacinto grew up in the house that he and his wife still live in, and according to both of them, it hasn't changed that much.  The earth floor on the small kitchen house is packed down, and is perfectly suited to the variety of four and two-legged friends that come in through the door, including people, puppies, hens, and the occasional piglet.
When we go, we get to sit on the benches lining the wall, and often discuss growing up here with Jacinto, his wife Altagracia, and occasionally one of their ten children.  Somehow, it always ends up with everyone seated around the benches lining the kitchen, sipping sweet coffee and laughing about everything from childhood stories to the chicken chasing the dog chasing the piglet in and out the door.
Jacinto's family have been coffee farmers for generations.  He is one tough cookie, and still at age 63 walks 90 minutes up the mountainside from his house (which is already a two hour walk from town and any public transport) to get to his coffee fields.  Since transport is an issue for numerous farmers, Liga Masiva is investigating ways to make it easier to move coffee from the fields to the houses where it starts to be processed.  This is something that we'll be working on particularly with Jacinto, even though at 63 he still gets up to his farm more quickly and less winded than out spry late-20s selves do.
Want to reach out to Jacinto with a question or a friendly hello?
Contact him!
We'll pass along the message the next time we're together.