Meet Erasmo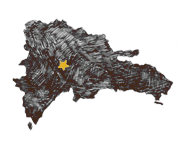 Quick Facts

Full Name: Erasmo Aracena
Age: 48
Coffee Farmer Since: Birth
Favorite Food: Not Coffee! Though he loves to grow it, Erasmo doesn't drink his own delicious brew.
Erasmo has had a couple of different jobs. He spent ten years living in the Dominican capital city of Santo Domingo after he turned 18, leaving behind his coffee farming family and history. However, 15 years ago or so, he came back to Jarabacoa to be a farmer. He considers his farm like a sanctuary, especially after spending 10 years in the bustling, concrete capital.
And he's pretty dang good at coffee farming. Erasmo is one of Jarabacoa's most well known farmers for the quality of his coffee. He spends much of the harvest sleeping on the farm, and has two different spots where he has constructed mini kitchens among trees and boulders to feel comfortable and at home in the outdoors on his farm.
Erasmo loves taking care of his coffee trees. However, before his partnership with Liga Masiva, he had a hard time earning enough money to maintain and improve his farm after each harvest. Last year, Erasmo borrowed 6,300 pesos (a little less that $200) from the Liga Masiva Socios program. Erasmo bought more than 5,000 tiny coffee plants from a local nursery to plant an uncultivated mountainside on his farm, and to replace a number of trees that were no longer producing. He spent a few back-breaking months building steep terraces to make new homes for all those plants. Now, we'll all look forward to the harvest in 2013 when we start to get to eat some of those beans!
Want to reach out to Erasmo with a question or a friendly hello?
Contact him!
We'll pass along the message the next time we're together.