Meet Carlos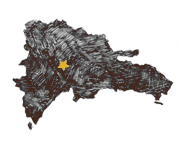 Quick Facts

Full Name: Carlos Aracena
Age: 58
Coffee Farmer Since: Birth
Favorite Activities: Raising fighting roosters and winning dance competitions
Carlos Aracena is literally famous around Jarabacoa for producing the best coffee around.  Other farmers come to ask him about fertilizer, about pruning coffee trees, and about how long to leave their coffee out to dry.  Carlos has a well-deserved reputation as a model farmer – something that he has earned throughout his whole life raising exceptional beans.
Nevertheless, Carlos knows that it's tough to get his coffee where it needs to go.  As he says, "There are not a lot of opportunities, and the roads are in a really bad state… which makes it hard to get down to town with two sacks of coffee on your back."  This is one of the things that Liga Masiva and Carlos are working on, new ways to get convenient transport to our rural farmers so that the coffee can get to where it needs to go keeping every bit of quality that farmers like Carlos have carefully cultivated.
In addition to his reputation as an awesome and resourceful coffee farmer, Carlos Aracena is famous for his hips.  No seriously, this guy is an award winning farmer, and also an award winning dancer.  Anything from baile tipico, which is danced to a band that includes an accordion, to bachata, merengue, and even salsa, are Carlos' specialties.  This man of many talents, aged 58, has taken the Liga Masiva team to task, showing up not only our dance moves, but our late night endurance.
Want to reach out to Carlos with a question or a friendly hello?
Contact him!
We'll pass along the message the next time we're together.