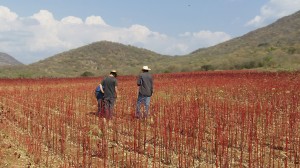 Last week, two of us traveled from our home-base in Zacatecas, Mexico the 12 hours or so down to  Morelia, Michoacan to meet the producers we wanted to partner with on the hibiscus for the Liga Box.
After arriving in Michoacan, we stayed overnight in the city and early Saturday morning, we drove the 3 hours out to the communities. Almost as soon as we arrived, we were swept up into the pickup truck of Marcoeri, one of the cooperative's members, and the person elected to manage sales.
As we rattled along in Marcoeri's truck (slightly overheated from the 100+ degree sun, but mostly in awe of the landscape around us) he shared some of history of the area.
These communities were once haciendas in which non-Spanish (or mestizo) people had no rights and existed in complete service to the owners of the haciendas. They had no rights to land, to food, to money, to build anything, etc.
When the hacienda system was overthrown via revolution in the early 1900s, ejidos were formed– self-governing communities in which the land that was formerly owned by the hacienda was now run together by the family/members of the ejido. In 1993, though, the government came in and demanded that the ejidos divide up the land among the members. The ejido continued, but the communal action and perhaps bargaining power of the ejidos was significantly weakened… and the farmers of the region (almost every family is a farm family) struggled to earn more than their cost of production for their goods (hibiscus, sesame, corn, and sorghum.) Coyotes (produce buyers) would collaborate to fix prices so low that the farmers were losing money each year.
A few years ago, though, the farmers formed cooperatives that allowed them to do some things together as well as to negotiate with a bit more power behind them. And then, about 5 years ago, the cooperatives realized that if they joined together, they would be much more powerful to sell directly to buyers, rather than going through middlemen.
Far from an academic point of interest, the structures (haciendas, ejidos, cooperatives, cooperative union) of these farmers' community and work has been fundamental in determining the degree to which they've struggled or thrived.
So when we came representing Liga Masiva's vision of Direct Trade, of no middlemen, of just prices, and of complete transparency, the farmers were enthusiastic. They approached us with the measured excitement of someone who has been working for years (decades, in this case) and is optimistic about what you might add to that work.
It's an honor to be part of the work of Unión de Cooperativas Arroyo San Pedro Jorullo. And we can't wait to see how things continue evolving.