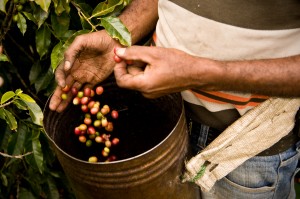 This past week, we gave our Liga Masiva Advocates a sneak peek of our Liga Box. Amid the excitement, one advocate asked a very savvy question. In the Liga Box magazine, we say that the products in the box are from producer relationships that are works in progress. That applies to all parts of the producers' practices, including the degree to which they grow organically. We summarize this part of things by saying that the products are "as close to organic as possible."
And despite our brief explanation in the magazine, it begged the question: what the heck does that mean?
First and foremost, I would just say that all of these producer relationships are works in progress. That means that at least some facets of the producers' work leave room for evolution and improvement… while others are stellar.
Our hibiscus producers, for instance, are tirelessly (and certified organic) but have other challenges. Although the chocolate and guava producers weren't certified organic and left some things to be desired in growing/sourcing practices, we decided it was worth moving forward because there was real evidence that we could support them in transitioning, which obviously is more positively impactful than just seeing them as a "lost cause" and moving on to more established producers. (Especially since they were so exceptional in other areas.)
Also, we're working on creating a consistent "scorecard" that we make transparent to both consumers and farmers so that it's clear where producers are struggling and where they're already successful, as well as the criteria they had to meet to participate at all… and where we want to work with them to head.
Ultimately, I think the key thing to communicate is that we see our job as not simply to buy from producers that are doing things perfectly, but to make the system work perfectly for producers… and support them in evolving their practices to match.