Liga Masiva is growing! That's great news… and it means that we need to add more farmers to our program. How do we go about doing that? Well, we ask around. We talk with community leaders, local farmers, agronomists, and local friends to spread the word that Liga Masiva is inviting more producers into the program.
As a next step, last weekend we held an informational meeting at our current farmer-partner Carlos' house.
The excitement and interest were palpable.  By 8:45am, everyone was milling about.  We were the only ones feeling out of the loop, as the farmers all greeted each other.  In baseball caps, jeans, and button up shirts, swapping tales about coffee prices, pruning techniques, and the health of children and spouses.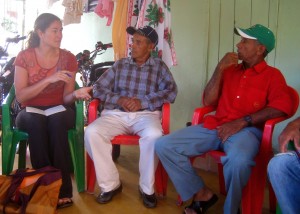 We piled into red, white, and green plastic chairs.  Carlos, Erasmo, Rafael, and Jacinto were familiar faces, along with new ones: Arcilio, Victorino, Manual Antonio, Julio, and Luis.  We talked through Liga Masiva's farmer program: the requirements (organic certification, high quality coffee, long-term relationships, and information sharing), the benefits (long-term contracts with above market pricing, access to capital, trainings, and information).
Most amazing was hearing our farmer-partners take ownership of the program.  Carlos jumped in to explain how our pricing works, Jacinto to talk about what he felt were the benefits.  Erasmo told about the 3000 coffee trees he planted this year using the Liga Masiva loan.  Rafa showed the loan certificate and history, given to him that very day.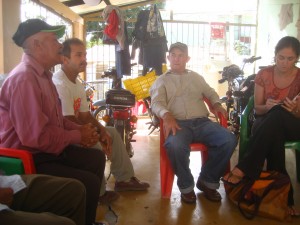 The last thing that Carlos said to the other farmers before they left was this: "As part of this program, I'm taking more care of my own coffee trees, because I know where I'll sell it. Taking that care is a great benefit to me."
We'll be working with these farmers and others over coming months to make sure there is a good fit between them and Liga Masiva. And we can't wait to introduce you to new farmers come October… con mucho gusto.