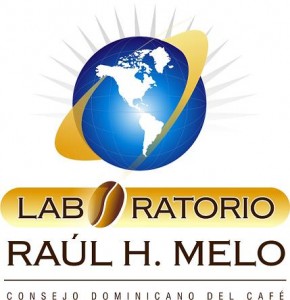 Like we've been saying, coffee is serious business.  Last week, Hilary, our chief of farmer relations, visited the office of the Dominican Coffee Authority, called the Consejo Dominicano de Café.  This office is responsible for checking every export of coffee that leaves the Dominican Republic, as well as promoting Dominican coffee more broadly.  At the office is the Raul Melo Coffee Laboratory.  There, specialists check every coffee leaving the DR for defects, color, humidity, density, flavor, color when roasted, cupping attributes, and a plethora of other characteristics!
Walk in, take off your jacket, and put on a white lab coat. No food or drinks, except well, the occasional jolt of caffeine from a small cup of coffee.  No nail polish for anyone checking coffee here (really, nothing that could contaminate the coffee).  This is a scientific laboratory, with stalls where coffees are analyzed by three to four different cuppers, where samples are roasted and brewed with specially calibrated water, and where coffee attributes are totally measured and understood.  If you want to know about Dominican coffee, the experts buzzing around this laboratory are the people to ask.  We were happy to do just that.
CODOCAFE maintains records of the blind tests of every export of coffee for five years.  This visit was to see the laboratory and get copies of the records for Liga Masiva imports since our inception in 2009.  Having these records, which include everything from cupping scores to density, helps us to measure our impact and changes in terms of coffee quality.   More information, more power.  And new friends at CODOCAFE.