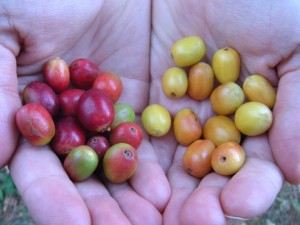 We've been preparing for our next trip to visit the organic coffee farmers we work with in Jarabacoa, Dominican Republic.
Despite our best efforts at planning in advance, the week before these trips always ends up being hectic. There is travel to book. There are transnational schedules to coordinate. And, we basically need to plan for 7 separate high-level strategic meetings with our Farmer Socios, factoring in the added challenge that most of the people with whom we'll be meeting can't read or write.
When you add that to the everyday challenges (and joys) of running Liga Masiva on a daily basis, people end up asking us the obvious question, "Why are you going on this trip again?"
It's true. In some ways, these trips are radically illogical. If we've already elaborated our transparent pricing with the farmers, if we've worked out this year's quality issues, if the loan program with the farmers is running smoothly, then why put more time and energy and money into it?
The real answer is this: we promised to help with the harvest. Yes, we'll be working with the farmers to support them in things to make their lives easier and more sustainable. Yes, we'll be resolving logistics. But most importantly, we'll be working side by side with the farmers for 8 days on the harvest. Not because they actually need our help in this way. But rather because both they and we need to know that we're we're in it together with them.
Liga Masiva is fundamentally about top-level change. It's about resolving the causes, not the consequences, of poverty. But we believe that this type of action is incomplete without this element of solidarity. Of, yes, radically illogical "being thereness."
Mother Theresa said that the root of the world's problems is that we "have forgotten that we belong to each other." We aspire to remembering that we belong to each other. And since we belong to the farmers and they belong to us, it makes sense for us to pitch in for a few days in harvest season.