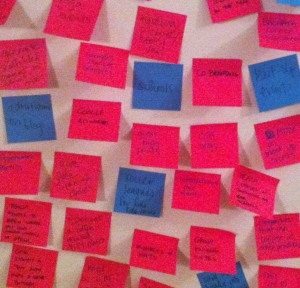 Here at Liga Masiva, we recently held our 2011 team retreat. It was a fantastic (and intense!) two days, filled with careful thinking about how to best serve our two most important groups of stakeholders: the people that buy our products, and the farmers that grow them. It was also filled with passionate discussions, long hours, dried fruit, and brainstorm sessions yielding crowds of post-it notes on the wall.
We worked on questions across the spectrum of our work. How can we make sure we're having as positive an impact on farmers as possible? How can we design our packaging and subscription so that it is a the most awesome experience around? How can we reduce our environmental impact?
The amazing, empowering, and sometimes terrifying truth about running a small company is that anything really is possible. Our ability to impact the people we care so deeply about (farmers! consumers!) is only limited by the quality of our ideas and the way we execute them. So we try to generate as many good ideas as possible (thus, all the post-its.) We ask you. And then we work every day to make good on those ideas, improving as we go.
That's what change looks like, at least to us. And it's powered by post-its.