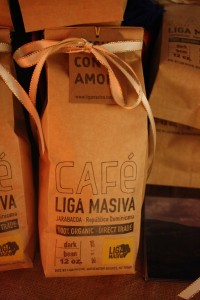 We're not afraid to admit when we're crushing on other organizations.  And when it comes to San Francisco's La Cocina, we're downright smitten.  Its a simple concept: La Cocina acts as a support system for low-income food entrepreneurs, providing a shared commercial kitchen space and other industry-specific technical assistance until their entrepreneurs become self-sufficient.  At its core, La Cocina is all about leveraging community to support the businesses it has pledged to help grow.
We were thrilled to be a part of La Cocina's annual gift fair – they brought together the best of San Francisco's foodie community to offer a mix of edible gifts and homegrown delights.  Our french press was on call throughout the evening, and we had a blast mingling with other vendors, tasting Stonehouse Olive Oil's delicious citrus flavors and chatting with the organizers behind the weekly Mission Community Market.   We left the building armed with alfajores from Sabores del Sur and some highly delectable Clairesquares.
We felt some love in return, too.   The scent of our beans had people heading over to our table with each freshly brewed sample batch, and most couldn't wait to share it with someone else.  It was a win-win-win situation for all involved – the type of relationship we like best — and we couldn't have been in better company.  We'd like to thank Caleb Zigas, Julie Flynn, Abby Rover, Kaye Chew, and Matt Skov of La Cocina for inviting us into their community and letting us caffeinate their lives in return!
Read more about La Cocina in the New York Times Magazine, and continue to spread the Liga Masiva love with a gift subscription