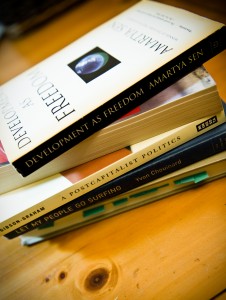 The Liga Masiva Book List is a work in progress.  These are a few of the books have shaped the way we see the world, and what we are trying to do about it.  Some are political, others academic, and others poetic. All, we find nourishing, insightful, and powerful as we do our work.
Mostly, we can never pass up an opportunity to share a book. So check them out when you're looking for new things to add to your list… and let us know what you think!
Let my people go surfing: The Education of a Reluctant Businessman.  Yvon Chouinard. The Patagonia founder's story begins with his admitting that growing up, he wanted to be a fur trapper or a vagabond… anything but a businessman.  In recounting the story of the business he went on to create, however, Chouinard reveals a lot about taking something from imagination to reality.  Through details of the day-to-day, Chounaird gives insight into the realities of creating a social business.  Since sharing this process is something that we strive to do at Liga, we think this book is pretty awesomely revealing.
A Postcapitalist Politics.  J.K. Gibson-Graham. An exploration of "diverse economies", this academic book ranges in topics from rejuvenating an Australian mining town to Buddhist philosophy and re-imagining work.  Its been foundational for us in letting us see the economy as more than just a place where people work and money changes hands.  If you want to change the way that you feel about the value of all the kinds of work that you do, and the economy that you live in, check this one out!
Development as Freedom.  Amartya Sen. A book on economics that is not dominated by math, Development as Freedom is about conceiving of economic progress as that which expands people's freedoms– whether political or social or economic. Sen also gets at this idea of "welfare economics:" economics that take human welfare into account.  As you can probably imagine, this framework is pretty dear to our Liga Masiva hearts.  It's a great book to uncover new ways to think about what economics is and does, and how it affects people's lives.
Pathologies of Power: Health, Human Rights and the New War on the Poor.  Paul Farmer. In this book, Paul Farmer introduces the term 'structural violence' as a term to help explain global inequalities.  Focusing a broader critique on physicians and anthropologists, Farmer implores people to think more about the political histories that lead to health disparities.  The theories and calls to action put forth by Farmer have shaped Liga Masiva's view of the way that the world operates, the need to understand context… and the need for action.
Linchpin: Are You Indispensable?.  Seth Godin. Through his other books, Godin has inspired us to be marketers, storytellers and leaders .  In Linchpin, Godin encourages each of us to be artists, to push ourselves to do "emotional work", that which we are inspired to put out hearts into.  Through this, we can become 'linchpins', people who are indispensable, bringing unique skills and passions to the table.  At Liga Masiva, we strive to be linchpins ourselves, and to promote an environment where others are making their passions in this same way.
More to come in future weeks… enjoy!
Photo credit: muchas gracias to Aubrey Graham