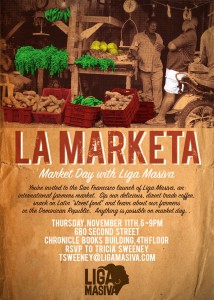 Come to market with Liga Masiva!
On Thursday, November 11th, in the Chronicle Books building in San Francisco, we'll be bringing our mission as an international farmers' market to life. There will be Latin American street food vendors, a live DJ pumping the jams, free coffee cupping, and more.
<– Click for the full flyer!
In a city where food culture rules and coffee reigns, we are bringing our border-blurring, transnational approach to direct trade to the San Francisco community. Liga Masiva has cultivated an ongoing partnership with some amazing coffee producers in the Dominican Republic and just deepened that connection by launching our farmer Socios program. We are fired up about the changes we are pushing for in our consumers lives, and amazed to see the benefits we are beginning to bring back to our producers.
We'll bring our passion, stories, and ideas to market.   Oh, and also some amazing coffee, snacks, and a few other surprises, of course.  Come ready to become a part of our growing community.
RSVP to tsweeney@ligamasiva.com …already a San Franciscan obsessed with Liga Masiva?   Email us at tsweeney@ligamasiva.com to volunteer at the event.